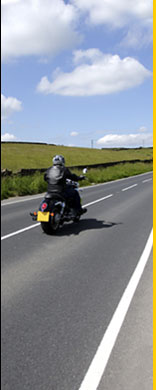 Our tuition is only $279. Enroll today online or by phone!

Welcome to our web site. At the Motorcycle Riding School, riding is not only an experience, it's a way of life. With this in mind, we provide safety oriented riding classes, including classroom lessons and on-cycle instruction. We offer expert instruction and training in all of the motorcycle skills and techniques you will need to feel confident and safe when riding a motorcycle.

We offer a schedule of unparalleled flexibility, with a variety of options for weekday, weekend and nighttime classes. The schedule is also designed to enhance your learning experience by not rushing the process and by providing a safer, more enjoyable environment. We also offer private lessons.
Since our school began in 1980, we have graduated more than 10,000 students ranging in ages from 16 to 83, both male and female. Upon successful completion of the course, you will have fulfilled the Massachusetts RMV motorcycle road test licensing requirement as well as being eligible for insurance discounts.

This Web site contains all of the information and forms you will need to register for a course, right here online. So come on in and let's get started!