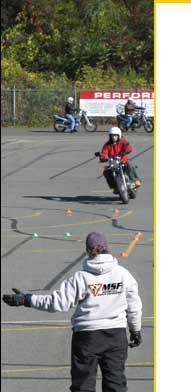 About The Beginner Motorcycle Rider Course

The Basic Rider Course consists of 15 hours of instruction (five hours in the classroom and ten on a motorcycle). The course is structured in a group learning format with classroom sessions which are held separately from and prior to on-cycle range sessions (which are always scheduled within two weeks of the classroom time). We provide the motorcycle and helmets. You provide a positive, involved attitude

This course is for everyone who now rides or is considering learning to ride. It is both mentally and physically challenging, especially in adverse weather conditions. The emphasis of the course is safety! In our classroom and on-cycle range sessions we'll cover everything you need to know through hands-on training and motorcycle riding experience. For a video of students taking our course, click HERE

To Graduate

Students must attend all classroom and on-cycle sessions and pass both a multiple choice knowledge test and a riding skill evaluation. Statewide, approximately 85% of students successfully complete the course their first time. Upon passing the course you will receive an MSF Certificate of Completion that entitles you to a limited 10% discount on motorcycle insurance coverage.

Important Information about your License

Students seeking exemption from the RMV's motorcycle license road test (and related fees) must obtain a Massachusetts motorcycle learner's permit prior to the first session of a course. The permit must not expire for at least two weeks following the class completion date. Before the first session, students will need to pay the $15 motorcycle endorsement fee or $40 motorcycle-only license fee. You can pay the RMV by credit card by calling (617) 351-4500 within the 617 / 781 area codes or 1-800-858-3926 within the 413 / 508 / 978 area codes, or by all payment methods at any RMV branch.

Students must bring their learner's permit to the first session of the course. Upon successful completion of the course, students must continue to operate under the restrictions of the learner's permit until they receive in the mail from the RMV either a motorcycle-only license or a new copy of their existing license with a motorcycle endorsement.

Students under the age of 18 who want to obtain a motorcycle endorsement must have completed the requirements for a JOL (Junior Operatorís License) obtain a motorcycle permit and pass a road test. Students under the age of 18 who want to obtain a motorcycle (only) license must hold their motorcycle permit for 6 months before applying for a road test.

How to Register

As well as being a learning experience, this course is simply a lot of fun. Getting started is easy! Use our on-line application process to immediately reserve your spot. You can also mail in your application or visit any of our Supporting Dealers. To learn about registration, click HERE.