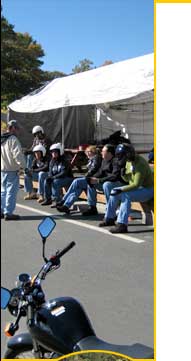 Register Now for a Motorcycle Riding Course!
Enrollment Overview
There are three steps in the registration process for the Motorcycle Riding School.
1) Choose the day you will attend a motorcycle safety class.
2) Choose a two-day motorcycle range riding section.
3) Provide your contact and payment information.
At the end of the enrollment process, you will receive your student ID number and credit card transaction number. Within a few days, you will receive your confirmation package by U.S. mail.
It is your responsibility to be aware of the policies and requirements of the Motorcycle Riding School. Click on the BARS below for detailed explanations, or call 1-800-536-7433.
Ready to Enroll?
Click the gold bar to register now or click any of the blue bars for related information.


Our step-by-step registration process makes it easy.

All the details about our cancellation/refund policy

Want to reschedule a class? Click here.

For information about course hours, click this bar.

Please review the REQUIRED clothing and equipment

To check the dates of classes, click here

For information on private lessons, click here